To No End sketchbook rubber stamped colophon signed and dated


Iterations #whoknows

This personal artist site knows many ways and has a notorious predecessor, since 1998: 'Notes, Quotes, Provocations and Other Fair Use' (or NQPaOFU) [1], formerly nqpaofu.com, as well as quite a few other Internet domain outlets over the years.

My current body of work consists of (often) AI enhanced drawing and painting and researches the materialization issues that come with original digital works. Since 22 april 2015 a constant flux of images finds its way to my Instagram outlet @jouke.kleerebezem: drawing and its production context of studio, home and travel flow into the social media publishing context, where they feel perfectly at home.

Major projects found their proper (always temporary, always irregularly updated, never finished) Instagram presence @rosyfingereddata (from 2019) and @waargeeneindeaankomt (from 2020). Even NQPaOFU has a dedicated compendium @nqpaofu.

At the same time all that's digital deserves a proper material incarnation to allow it a different presence and dissemination.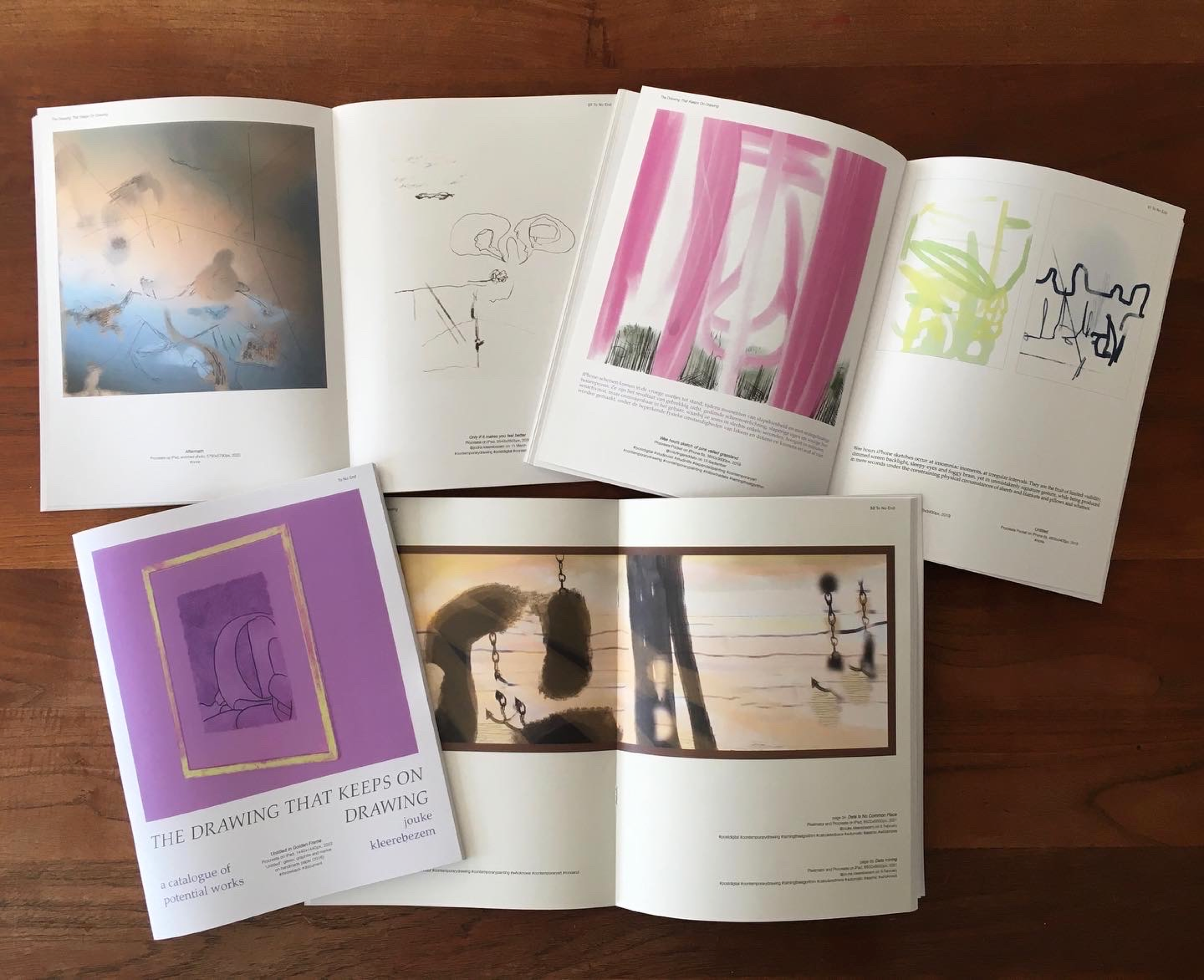 The Drawing That Keeps On Drawing fold outs, edition of 50, 2022
64 pages 23×30cm industrial digital print, signed and numbered n-1 to n-50/n
with incidental overpainting or drawing



Off-instagramming the work? #whoknows

The 2022 The Drawing That Keeps On Drawing printed edition brings together a selection of previously unmaterialized iPad and iPhone drawings which had flowed into their Instagram destinations over recent years. Subtitled 'A catalogue of potential works', this publication was inspired by my enthusiasm at the publishing of a couple of drawings in Dutch art magazine Metropolis M, issue 6 in 2021/22 [2], as their first appearance on paper, in an edition of 4000...

Meanwhile I had presented some 'fine art prints' in the context of two gallery presentations, Rosyfingered data, at the sadly meanwhile closed Cees van den Burg's Parts Project Space [3] in The Hague and Waar geen einde aan komt ('to no end') at Hans Walgenbach's Rotterdam based Art & Books [4] — basically a wall and a vitrine in an antiquarian art book store, where printed works find a familiar sympathetic context.

As far as materialization goes, both the magazine and the gallery presentations allowed a context specific dissemination of what had, to that date, only lived on my iPad and iPhone. In the gallery, high-end printing both digital and photographical in carbon prints, went along ink and paint on different materials, like paper, canvas, mirrors. Their spatial and architectural installation allowed to read the material signs in a way that included haptics and social interaction, constantly changing angles, multiple sensorial input, under the fluctuating circumstances of light and audience presence — all very much unlike the work's online presence.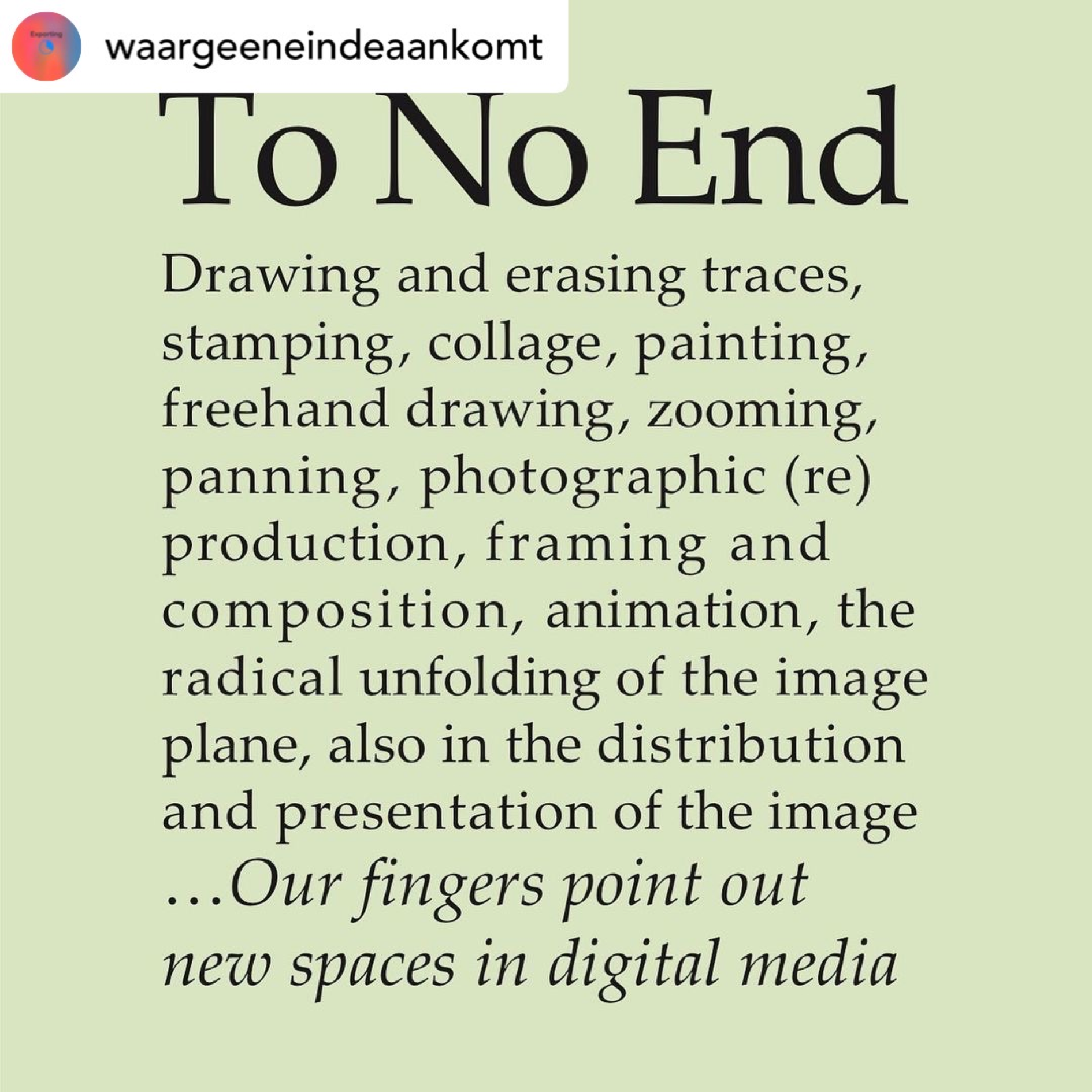 To No End Post-It from @waargeeneindeaankomt


'New spaces in digital media' have been my main area of interest since 1993 when I accessed the new space of the public Internet, as a member of the Mediamatic community. Part of that early history was my work Cue, kind of a Proun revisited, which was included in a presentation curated by the Amsterdam Stedelijk Museum's Dorine Mignot, occupying both museum rooms as well as 'world wide web' estate, a first in Dutch museology: 'Under Capricorn, The World Over' [5] (1996).

Over the past three decades my work remained experimental, post-conceptual, procedural and mediatized, from a fundamental interest in gestural and automatic drawing, in trace making, world building, canvas spamming and pixel pushing: manipulating material and digital media, or 'atoms and bits' in their 'chance encounter on a dissecting table' — if we could follow Lautréamont in his definition of a surrealist method.




links
[1] Notes, Quotes, Provocations and Other Fair Use
[2] Metropolis M, 'Het depot als netwerk'
[3] Parts Project, 'Rozevingerige data' / 'Rosyfingered Data'
[4] Art & Books, 'Waar geen einde aan komt' / 'To No End'
[5] 'Under Capricorn / The World Over', 'Cue'